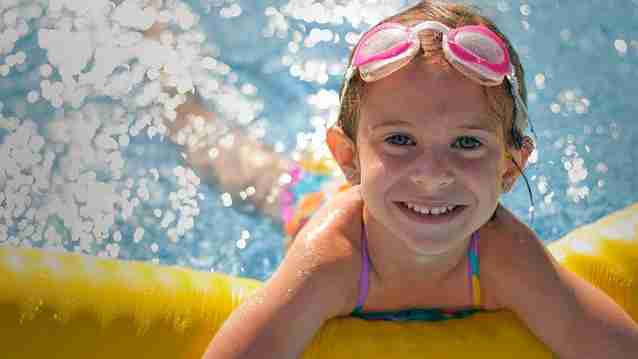 Swimming pools can pose some danger so it's better to take proper precautions.
Children should be trained for swimming after the age of 4 years because that is when they are developmentally ready.
Swimming Essentials to be kept handy while going swimming with your child:
Swimming costume
Towel
Shampoo and Shower gel
Hair clips and bands
Swimming Cap
Goggles (Swimming Glasses)
Armbands
Swim nappies (if required)
Tan lotion
Children are often quite excited about water, but do consider these water safety basics when you are in a pool with your child:
Keep a continuous watch on kids; this is mandatory everywhere - in a bathtub or in a swimming pool.
Check the quality and strength of the tubes that your child is using.
Don't be pushy. If the child is too scared, take them out of the water and try again later.
If the child is learning to swim, an adult should swim at arm's length (close to the child).
Children should be away from the pool when adults are not around, never leave the child unsupervised.