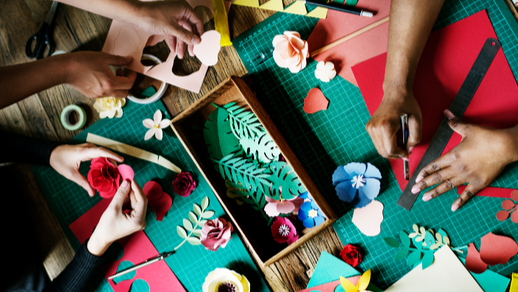 Craft out of waste material is pocket-friendly and encourages children to reuse things while exercising their creativity! Here are some cool, easy and fun waste-material craft ideas for kids!
In rapidly changing technology as children grow up, they start playing with gadgets like laptops, tablets, mobiles, game consoles, meaning they miss out on crafting new things and exploring. They may not give time to creating Best out of waste crafts.
Therefore, it becomes vital to connect arts and crafts in children at a younger age. The importance of this will be they will learn a new skill and help save the environment by utilizing the waste material and creating something best out of waste.
Here is a list of the top 10 Best Out of Waste craft ideas that we have compiled for teaching your kids:
1. Vase From Bottle Idea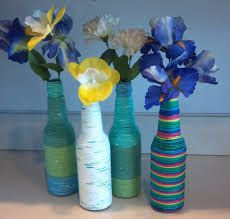 What waste you need:
Glass or plastic bottle
Paint
Paintbrush
Masking tape (optional)
What to do out of these:
Wash the bottle to clean it and remove the label.
Paint the bottle in a colour of your choice.
Once the paint dries, top it up with another coat of paint so the colour is opaque enough.
You can also use masking tape to make patterns on the bottles.
Before painting, use the tape to make the design you want.
When you remove the tape after spray painting the bottle, that part will still be transparent and will look lovely.
Add a flower and your bottle vase is ready to adorn your living room!
2. Matchbox Robot Idea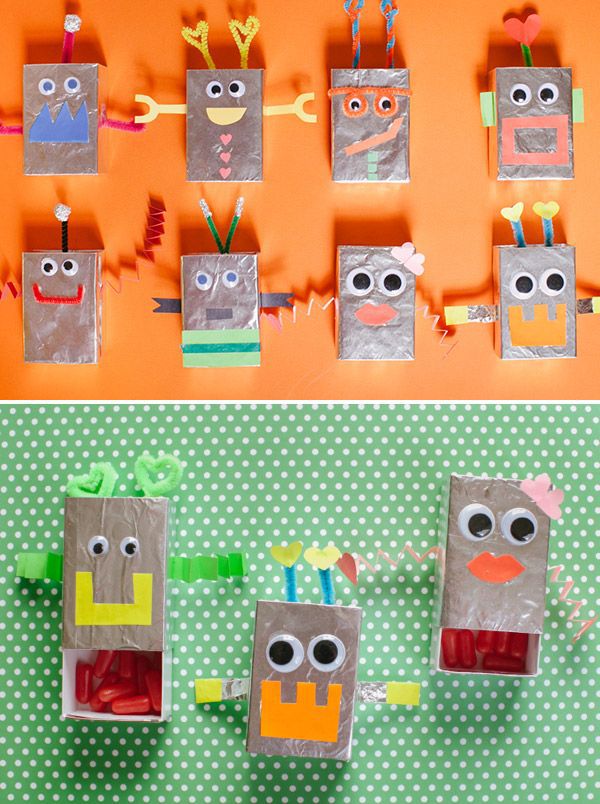 What waste you need:
4 matchboxes
2 matchsticks
Coloured paper
Scissors
Glue
What to do out of these:
Cover a matchbox with coloured paper.
Make a hole at the bottom of the box using a matchstick.
Use the other matchboxes to create the body and legs.
Use a matchstick to connect the body to the head.
Draw the robot's eyes and mouth on its head.
Make the robot's antennae using 2 matchsticks.
3. Shoebox Maze Idea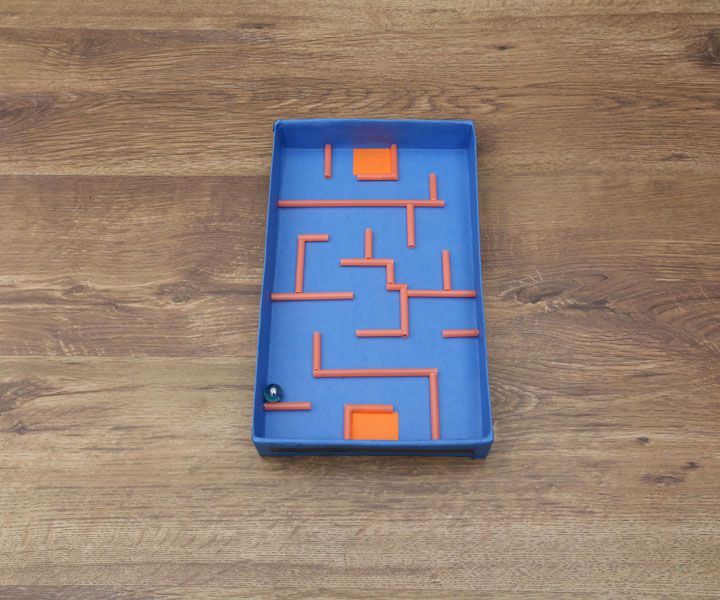 What waste you need:
Old shoebox
Coloured paper
Pencils
Straw
Paper
Marble
What to do out of these:
Take a shoebox lid and cover the inner part with a coloured paper.
Draw the maze with a pencil and paste straws on it.
Take another coloured paper and make 2 goals on both ends.
Use marble to play the game.
4. Paper Cup Lights Idea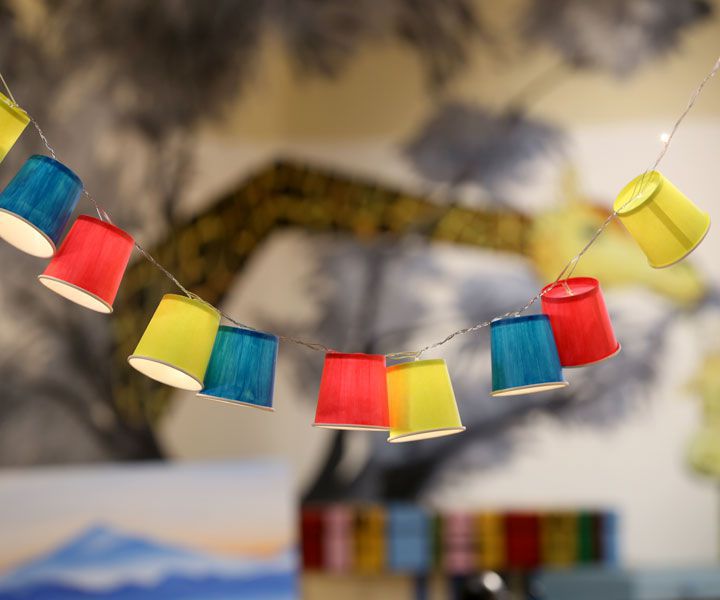 What waste you need:
Paper cups
Paint
Fairy lights.
What to do out of these:
Take paper cups and put 2 slits in X shape on the bottom of each cup.
Color the cups and keep them aside to dry.
Once dried, put the LED light bulbs through each slit.
And you're good to go!
5. Matchbox Suitcase For Dolls Idea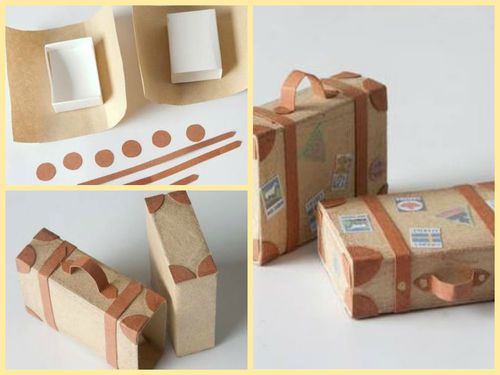 What waste you need:
Matchbox
Light and dark brown paper
Scissors
Glue
What to do out of these:
Cover the top of the matchbox cover with light brown paper.
Make 4 circles of dark brown paper and stick them on each corner of the suitcase.
Cut thin strips of dark brown paper and stick them on the sides.
Make a small handle with the light brown paper and stick it on top.
You can also decorate the suitcase with travel stamps or a name tag.
Insert the inner box back into the cover. You can use this to store tiny bits and baubles!
6. Paper Cup Wind Mill Idea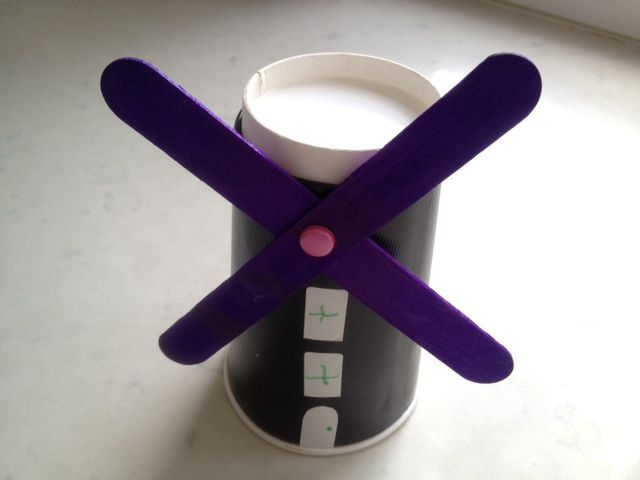 What waste you need:
Paper cups
Whitepaper
Board pins
Glue
Scissors
Paint
What to do out of these:
Paint the paper cups in vibrant colours.
Pile them on top of each other and glue them together to create a tower.
Use the paper to make a pinwheel and attach it to the topmost cup with a pin.
You have your own windmill!
7. Bottle Money Bank Idea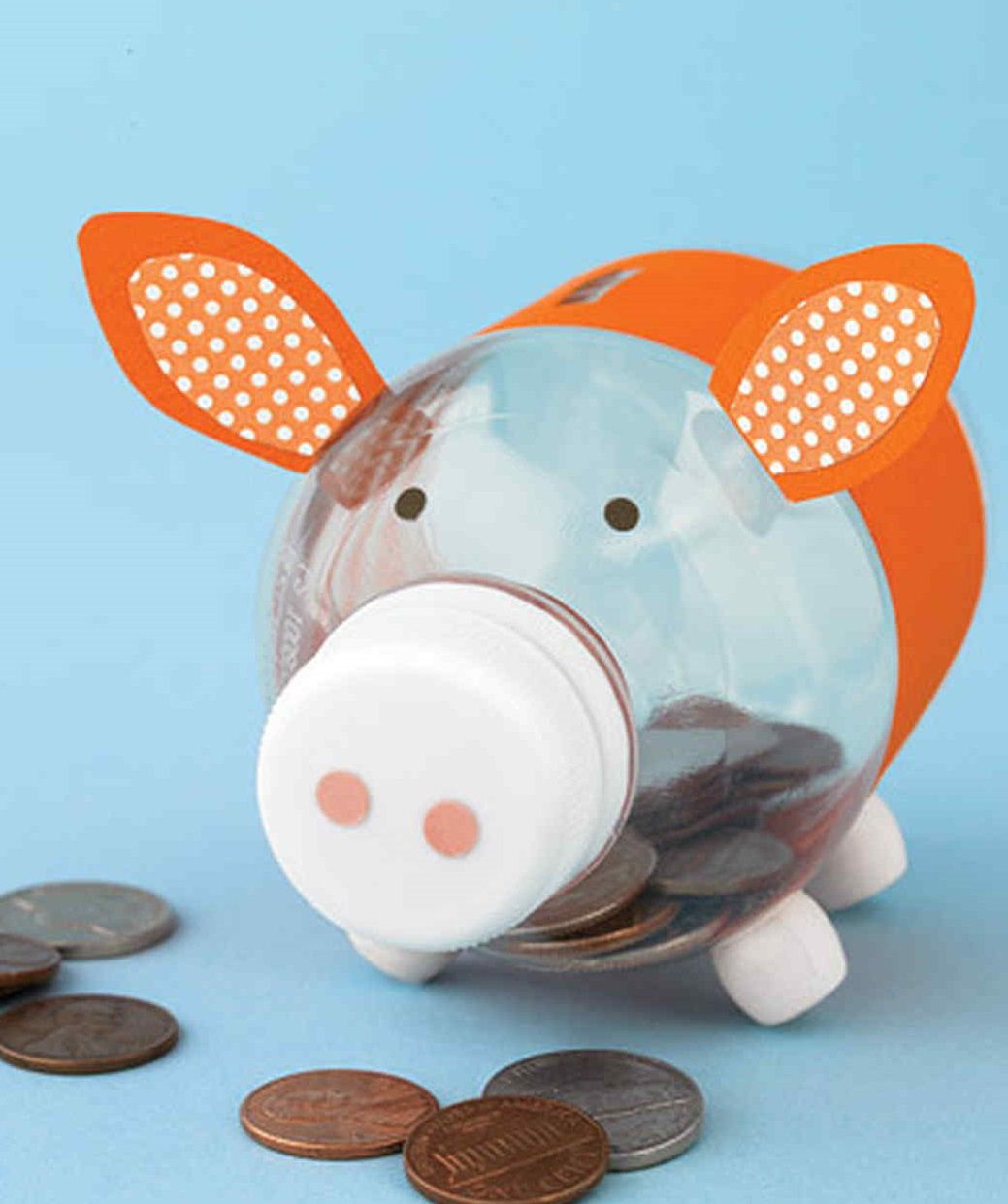 What waste you need:
Plastic bottle
Piece of paper (Be creative with your newspaper choice)
Felt pens
Glue
What to do out of these:
Clean and dry the bottle.
On the side of the bottle, cut a slot big enough to send a coin through.
Seal the edges with glued paper or tape to prevent any tearing.
Cover the rest of the bottle with the paper and paint it or make patterns.
You can even go all out and make it look like a pig with just the same basic paper sticking.
Your money bank is ready!
8. Glittery CD Fish Idea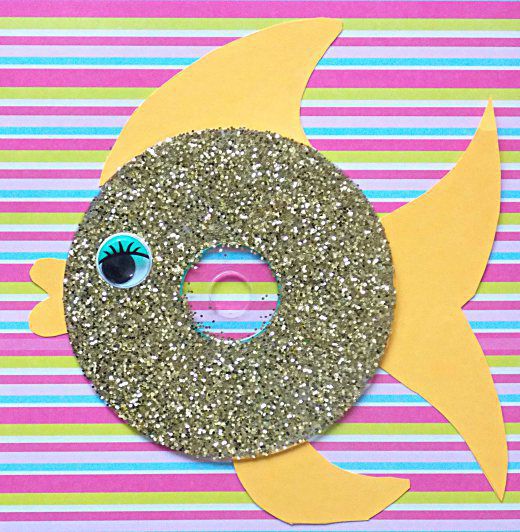 What waste you need:
A CD
Glitter
Fevicol
Card paper
Tape
Scissors
Googly eyes
What to do out of these:
Cover the entire CD except for the middle portion with glue.
Sprinkle the glitter all over the area on the CD. Leave it to dry.
Once it dries, dust off the excess glitter.
With the card paper, cut a mouth, fins and tail and stick these on the blank side of the CD using the tape after it's dry.
Attach the googly eye to one side of the fish's face. Glittery fish is ready!
9. Bird House From Carton Idea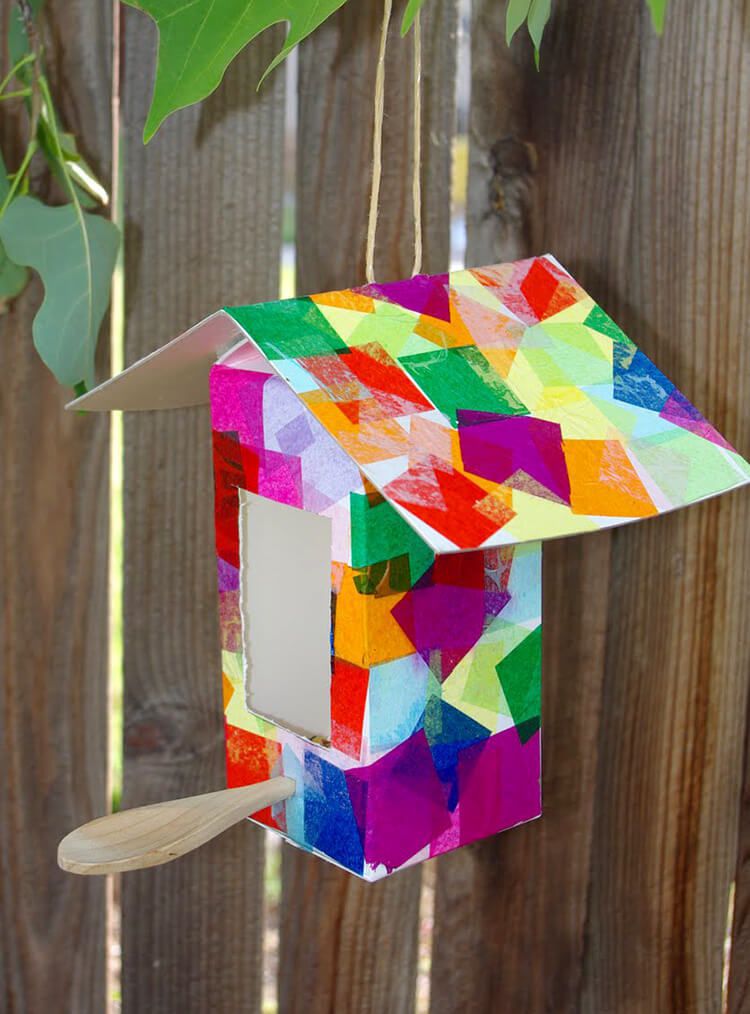 What waste you need:
Milk or juice carton
Paint
Glue
Plastic spoon
Coloured paper
Cutter
Soft book cover
Wool
What to do out of these:
Paint the carton and let it dry.
Dilute the glue with water and put a thin layer of it on the cartons and the book cover.
Before the glue dries up, use the coloured paper randomly on the cartons for a colourful effect. You can even overlap one over another.
Make a hole on the top and another on the side of the carton to make the door.
Just below the door, cut a small 'X' shape and insert a plastic spoon in it to put bird seeds.
Now stick the soft book cover on top of the carton to make a roof.
Make two tiny slits on the roof and put the wool through this to hang the birdhouse.
10. Popsicle Photo Frame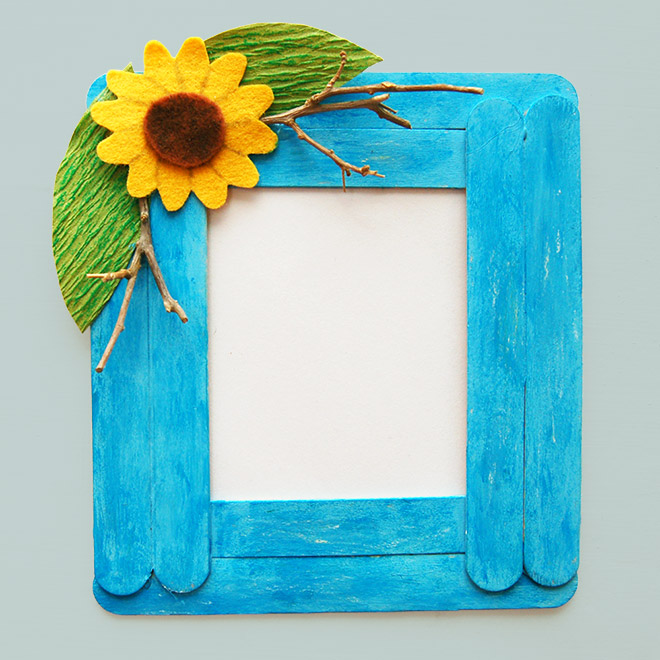 What waste you need:
9 *12 white papers
8 Popsicle sticks
Scissors
Glue gun
Paint
Crayons
What to do out of these:
Color the Popsicle sticks in different colours of your choice.
Use two popsicles for both sides.
You can either draw or attach a picture of their choice on white paper.
Glue the Popsicle sticks in a square. It will create the frame.
This handmade best out of waste material craft for kids will always hold a unique charm.
Relevant Blogs
Want to keep your kids busy for long and let their brains grow and develop simultaneously? Puzzle games will be the easiest thing to help your kids in this. These days, there are multiple puzzle games for kids that have been created especially for educational purposes.