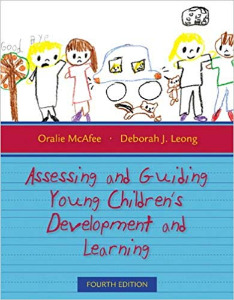 Author(s): Oralie McAfee, Deborah J. Leong
Language: English
Pages: 304
This comprehensive guide to assessment in early childhood continues to provide the most current research, best thinking, and practical guidance to integrate assessment with effective teaching.
Assessing and Guiding Young Children's Development and Learning is the only book that shows assessment as a process teachers can use to improve teaching and ensure student learning. It incorporates current trends in assessment with examples and approaches being used in early childhood classrooms.
The book includes guides for interpreting and using assessment information once it has been collected. The assessment strategies presented are compatible with all approaches to educating young children. The social, cultural, legal, and ethical context of assessment and its implications for teachers and teaching are realistically presented.
Relevant Blogs