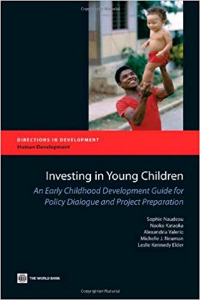 Author(s): Sophie C. Naudeau, Naoko Kataoka, Alexandria Valerio, Michelle J. Neuman, Leslie Kennedy Elder
Language: English
Pages: 320
This Guide fills a gap in the literature by
distilling existing information in a user-friendly format,
providing practical information on topics that have recently become particularly relevant in ECD (e.g., measuring child development outcomes through the identification and adaptation of relevant instruments, conditional cash transfers for families with young children, etc.), and
assessing the quality of the latest evidence on each topic and identifying the knowledge gaps/remaining questions for which additional experimentation and evaluation are required. This Guide is designed as a series of short notes (approximately 6-8 pages each), clustered into thematic sections:
(i) Initiating the policy dialogue: Why invest in ECD? (3 notes);
(ii) Assessing needs, measuring outcomes, and establishing policy frameworks (2 notes);
(iii) "Strategic entry points" for ECD investments (4 notes); and (iv) Costing and financing (2 notes).
Relevant Blogs