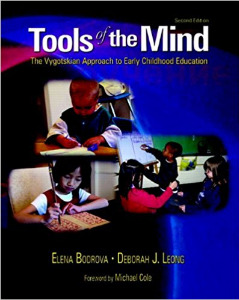 Author(s): Elena Bodrova, Deborah J. Leong
Language: English
Pages: 264
This unique text provides in-depth information about major concepts and principles of the cultural-historical theory developed by Lev Vygotsky, his students and colleagues, as well as three generations of neo-Vygotskian scholars in Russia and in the West. Tools of the Mind enables teachers to arm young children with the mental tools necessary for learning.
Concrete explanations and strategies on how to scaffold young children's learning and development are provided throughout the text. These are a product of 15 years of collaboration between the authors and early childhood teachers from diverse programs across the United States, most of which serve children from at-risk populations.
Key changes to this expanded edition include:
Separate chapters on developmental accomplishments of infants and toddlers, preschoolers/kindergartners, and primary grade children, each followed by a chapter on supporting those accomplishments.
Additional strategies for supporting children with special needs.
A new chapter on dynamic assessment as an application of the zone of proximal development.
Research findings and practical applications from the neo-Vygotskian approach.
Relevant Blogs