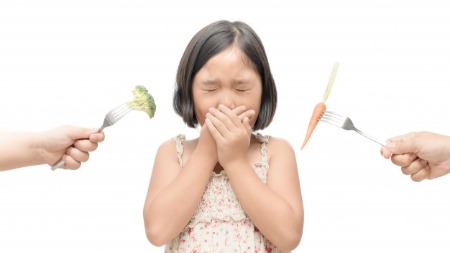 Children learn from your behaviour. Changing your eating habits will help them develop healthy eating habits as well.
No human can stay hungry for long. Hunger is an integral part of survival. Every child has his/her own set of likes and dislikes when it comes to food. So the problem should not be that a child does not eat, rather the problem is that the child does not always eat what his/her parent wants them to eat. Every child likes something or the other. Identify that and feed them that. Introduce new foods along with their favourite foods.
A few things which you can keep in mind:
Avoid introducing junk foods with high taste levels at a young age: For example, if you introduce chocolate too soon, your child will be habituated to an intense sugary taste. Also, chocolates, biscuits, wafers have more calories. So if children eat 4-5 chocolates or biscuits, their calorie count is fulfilled and they will not require any more food for the whole day. These foods are highly rich in calories but do not provide other quality nutrition. Eating excess junk food will result in nutrient deficiency when they grow old.
Stop giving any junk food altogether: If you totally stop giving chocolates or biscuits, the child will gradually divert towards healthy nutritious food because no one can survive without food. You will have to work hard to develop a new habit of eating healthy and this can be time consuming and can demand a lot of patience.
Work as a team: When you know some things are not right for your child's health, sit with the entire family and convince everyone to not give junk food every time a child demands. By being stricter, gradually your child will develop healthy eating habits.
Be a role model: If you want your child to follow your instructions, you too will have to say goodbye to your junk food habits. A child learns the most from his parents. Eat healthy and so will your children.
A frequent intake of sugar and sugary foods and drinks between meals causes tooth decay. Snacks and drinks taken between meals should be sugar-free.
Do not add more salt in the food either while cooking or at the table, as babies' kidneys are not fully developed.
Every day, children need three meals plus snacks. Provide nutritious meals and snacks.
Young children are very active and have high energy (calorie) and nutrient needs in proportion to their small body size.
Relevant Blogs
Irritability is probably the most common signs among babies that indicates a child is hungry.
If your child does not like milk or takes time to have a glass of milk every morning, do not get impatient.
When a child is ready to eat food on its own, (s)he will give you signals. Look for the signals and you will know how to help your baby.
You can gradually make your fussy eater child accustomed with all kinds of food.
Sugar is a very tempting food item. Keep the sugar intake in check since the first day a child learns to eat; this way things will not out of hand.
Underweight children require foods and diet that can provide them with enough nutrition and sufficient calories.
It is not right to completely put the blame on kids for their disinterest in healthy food. As parents, we need to reflect on ourselves and take necessary measures for the same.
It is very important to maintain a balanced diet for the proper growth and development of the baby. Going gluten free or not is an individual's choice. It is better to look into the pros and cons before taking the decision.
Introducing food at the right age will make your child habituated with eating all kinds of food.
Kids tend to skip chewing and try to swallow the food directly. Do not get angry, try to be patient and address the problem.
Gradual introduction of different foods leads to proper development in children.
For overweight children, you cannot just take away interesting food altogether. It needs to happen gradually over the time.