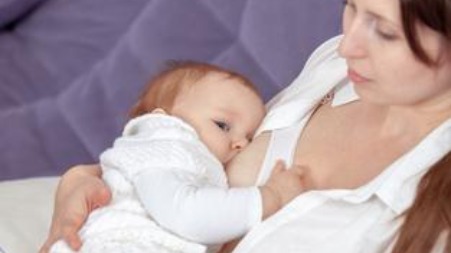 It is very rare that mothers have to deal with less breastmilk production. Nevertheless, there are always ways to deal with it.
Reduced milk production can be due to pain through breast pump, infection, or poor latching, any breast surgeries you've had, stress, high blood pressure, insulin dependent diabetes, obesity, or thyroid. If your baby was born prematurely, it might be a while before your little one gets the knack of proper feeding. And because your baby takes a while to adjust to breastfeeding it too impacts your milk supply. Do not feel guilty about low milk supply as most of the factors are out of your control.
Following are the ways which will help you to increase your breast milk production:
Evaluate Your Baby's Latch: Make sure the baby is latching on your breasts correctly.
Continue to Breastfeed: Your body works on the principle of demand and supply. As you keep feeding, it will produce enough milk. If your milk supply is low, try to express at least 8 times in 24 hours and at least once overnight. Milk producing hormones are secreted the highest at night, so do not skip the night-time expressing.
Stimulate Your Breasts: Use a breast pump or a hand expression technique to stimulate your breasts after you finish breastfeeding your baby. The extra stimulation will tell your body that you need more breast milk.
Use a formula supplement: When the milk flow is low or slow, the child may refuse to suck so you can use a formula supplement.
Make Healthy Lifestyle Changes: Smoking, taking a combination of birth pills, stress and fatigue can also adversely affect milk production.
Breastfeed Longer at Each Feeding: Your newborn should be breastfeeding for at least 10 minutes on each side. If (s)he falls asleep, try to wake him/her up gently to continue nursing. The more time your baby spends at the breast, the more stimulation you're getting.
Breastfeed From Both Breasts at Each Feeding: During the first few weeks, breastfeeding from both sides during each feeding will help to build up a stronger supply of breast milk.
Try to Keep Your Baby Awake During Feedings: Yes! When you are feeding your baby try to keep your child awake and actively sucking so that there is stimulation which helps in milk production.
Spend Some Time in Direct Skin-to-Skin Contact: The kangaroo care technique that is skin to skin connection between the newborn and mother stimulates their bodies and has a very positive impact on the baby and the mother.
Eat Well: Eat some milk boosting food such as oatmeal (porridge or upma), spinach, fenugreek, garlic, apricot.
Drink Plenty of Fluids: Breast milk is made up of about 90 percent water. Drinking about 6 to 8 glasses of water or other healthy liquids such as milk, juice, or tea proves beneficial.
Try to Get Some Rest: Exhaustion and stress can have a negative effect on your milk supply. Try to take a nap when the baby is sleeping, and know that it's OK to ask for help.
Relevant Blogs
Thrush is a fungal infection that causes severe pain in both nipples and breasts after feeds.
Mastitis is an inflammation of the breast due to ineffective draining of milk.
Improper latching leads to an underweight child. Hence it is important to make sure that your child is latched well.
It is possible to have an oversupply of milk.
A cleft occurs because the tissues of the baby's face and mouth don't fuse (link) properly.
Relactation is when you resume breastfeeding after you have stopped it because of any unavoidable reasons.
It is important to breastfeed a child till 1 year. It is not advisable to give formula milk before the age of 1 year.
Breastfeeding can sometimes get overwhelming, not just emotionally, but physically too. Nipple care is very important for the first few months of feeding.
For starters, most mothers find it difficult to stick to one position for breastfeeding. But with time, it gets better.
Colostrum has multiple benefits for a baby's health and should be the first food give to a baby after birth.
For the first few weeks, infants need to breastfeed eight to 12 times per day. That is once every two to three hours, day and night.
Worried about whether you are feeding the child enough? Look for the signs that your child gives.
Lactose overload happens when the milk is not digested properly.
Breastfeeding after having a C-section delivery can be difficult due to the painful wound.
The beginning is always tough, but it does get easier with time. Find out more in the full article.