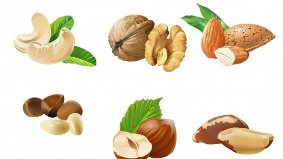 Nut allergies can be of two types: tree nut allergies or underground nut allergies.
Nut allergy is usually caused by peanuts. Peanuts grow underground. Peanut allergy can sometimes trigger life-threatening reactions. The proteins found in nuts are considered dangerous by the body and in response the body triggers an immune reaction against those proteins. Peanut allergies generally stay on for life but in very rare cases, children may outgrow these allergies. Peanut allergies are severe hence even trace amounts of peanut could trigger an immune reaction posing a threat to your child.
Nut allergies are also very rarely caused by tree nuts grown above ground. Common tree nuts are Almonds, Brazil nuts, Cashews, Hazelnuts, Macadamia nuts, Pecans, Pine nuts, Pistachio, Walnuts, etc. If your child has a nut allergy, it is advisable to consult your child's paediatrician before giving him/her coconut based foods. This is because coconut belongs to tree nuts family.
Symptoms:
Nasal congestion, runny nose, sneezing or dry cough
Eczema (a dry, itchy rash) or hives (reddish, swollen, itchy areas on the skin)
Redness of the skin around the mouth or eyes
Itchy mouth, ear canal or lip swelling, odd taste in the mouth
Nausea or vomiting, diarrhoea or stomach pain
Severe reactions include loss of consciousness, chest pain, turning pale, shortness of breath, trouble swallowing, or anaphylaxis.
Diagnosis:
Always get the diagnosis done by an expert. The doctor may recommend that your child undertake tests like skin prick test, blood test or food challenge. It is important that these tests are performed under medical supervision as these tests might trigger an allergic reaction.
Your child may develop allergies if there is a history of allergies in your family.
Precautions:
Always keep a habit of reading the food labels for the ingredients.
It is advisable to avoid all kinds of nuts if your child has developed allergy to one of the nuts. This is because there are risks of cross-contact and even trace amount of the nut your child is allergic to can lead to severe allergic reactions. Consult your child's paediatrician for the same.
Inform your child's school or caretakers of the nut allergy so that they have an emergency response kit or you can provide the emergency kit to the school.
Keep an anti-allergic medicine prescribed by your child's paediatrician handy in case of mild triggers.
Foods to avoid:
Cross-contact is common in the case of nut allergy so always be careful of the foods your child consumes.
Be careful of the following foods as nuts could be a hidden ingredient in them:
Cereals, breakfast bars, snacks like crackers, cookies, cakes, pastries, energy or protein bars, pancakes, egg rolls
Beverages like flavoured hot chocolate, flavoured coffee
Desserts like ice creams, frozen yogurts, chocolates, candy, fudge
Cheese, butter or oil from tree nuts or other nuts
Even personal hygiene products like shampoos, lotions, perfumes, and soaps may contain extracts from nuts
Pet food, bird seeds, compost used as fertiliser may contain peanut shells
Relevant Blogs
Peanut allergies tend to stay on for life so it is very important to stay conscious and aware all the time.