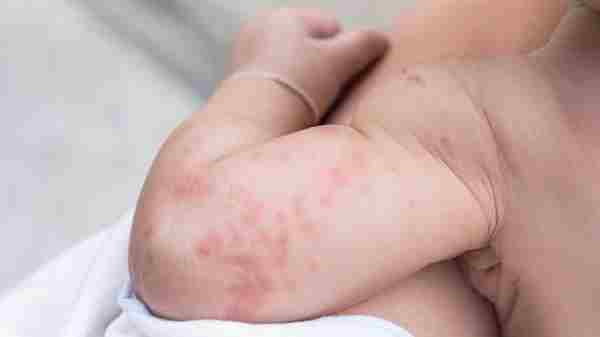 Dealing with rashes properly helps soothe a child.
Rashes are common among infants. Rashes can occur because:
If the diaper is wet for too long
Allergic reaction
Bacterial Infection
Milk drops falling around baby's neck
Take these measures to cure/avoid rashes:
Wash your hands before and after changing a diaper
Keep a periodic check on baby's diaper
Use medicated cotton and plain water to poop off your baby's skin
Use a mild cleanser
If you use wipes, choose mild ones or without fragrance and alcohol
Make sure that the area is completely clean and dry before using another diaper
Let the baby go diaper free if the rashes are extreme
Clean the neck after every feed
If your child has rashes solely due to diapers, then:
First of all, you can change the brand, as the allergy can be due to a child's sensitive skin. Different babies have different types of skin sensitivities.
Apply good moisturiser on the skin before using diapers.
With every diaper change, clean the area properly.
You can also use specially designed creams for diaper rashes.
Even then if the rashes continue, limit the use of diaper to minimum.
Use cotton underwear instead.
Rash associated with diarrhoea, needs treatment for diarrhoea.
Severe cases may need mild steroid based cream under doctor's supervision.
Follow the above measures for mild rashes. In case, the rashes do not improve overtime, contact your paediatrician for appropriate anti-bacterial or skincare ointments and medicines.
Bee Suggestions
It is rare that your child would get pimples or acne at this age. If it does happen, it is always advisable to consult your paediatrician.
Fungal infections are very rare among children but you can always prevent it from happening by following proper measures.
Itching, if not treated at the right time can intensify and irritate a child. It is better to consult your paediatrician at the right time.