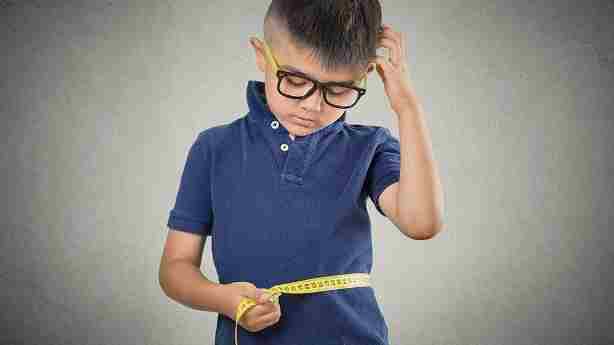 Underweight children require foods and diet that can provide them with enough nutrition and sufficient calories.
A balanced diet for a young child means having variety of foods. From the age of two, a child should be moving towards a diet that is similar to the rest of the family.
Follow below mentioned measures to increase weight of your underweight child in a healthy manner:
Your child should have at least five portions of a variety of fruit and vegetables every day.
The meals should be based on potatoes, bread, rice, pasta or other starchy carbohydrates.
Some dairy or dairy alternatives (such as soy drinks and yogurts). Choose lower-fat and lower-sugar options.
Some beans and pulses, in case you prefer non-vegetarian food, fish, eggs, meat and other protein. Aim for two portions of fish every week – one of which should be oily, such as salmon or mackerel.
Plenty of fluids such as water, milk, fresh juice making up to – 6-8 cups/glasses a day. Energy-dense foods such as whole milk, yogurt, cheese and oily fish can also be given.
By the time your child is five, they should be eating a healthy low-fat diet. There are a few steps you can take to increase your child's calorie intake until they reach a healthy weight, while still providing a healthy diet.
Bulk up mashed potato by putting milk or cheese in it
Put grated cheese on beans on toast
Make milk puddings
Try not to give more of:
Sugary drinks and foods – It's not recommended to give your child high sugar drinks and foods. The longer and more often sugar touches your child's teeth, the more damage it causes. If your child does have sugary foods or drinks, it's best to give them at mealtimes to minimise damage to their teeth.
Saturated fats – These are unhealthy fats, such as those contained in burgers, sausages, pies, biscuits, cake and cheese. Try not to give these too often.
Whole grains – Wholegrain foods, such as wholemeal pasta, bread and brown rice, can be high in fibre and may fill up your child before they've taken in the calories and nutrients they need. After the age of two, you can gradually introduce more wholegrain foods.
Note: It's normal to worry that your child is not getting the food that he or she needs to grow. But kids are more than capable of knowing whether they are hungry or not. Unless your doctor tells you that your child isn't getting the nutrients that he or she needs, you should not worry about the lack of food intake. As long as your child's weight is fine, (s)he is sleeping well and has normal bowel movements, there is no need to worry that whether your child is eating enough or not.
Relevant Blogs
When a child is ready to eat food on its own, (s)he will give you signals. Look for the signals and you will know how to help your baby.
It is very important to maintain a balanced diet for the proper growth and development of the baby. Going gluten free or not is an individual's choice. It is better to look into the pros and cons before taking the decision.
If your child does not like milk or takes time to have a glass of milk every morning, do not get impatient.
Kids tend to skip chewing and try to swallow the food directly. Do not get angry, try to be patient and address the problem.
Children learn from your behaviour. Changing your eating habits will help them develop healthy eating habits as well.
Irritability is probably the most common signs among babies that indicates a child is hungry.
Sugar is a very tempting food item. Keep the sugar intake in check since the first day a child learns to eat; this way things will not out of hand.
Gradual introduction of different foods leads to proper development in children.
For overweight children, you cannot just take away interesting food altogether. It needs to happen gradually over the time.
You can gradually make your fussy eater child accustomed with all kinds of food.
Introducing food at the right age will make your child habituated with eating all kinds of food.
It is not right to completely put the blame on kids for their disinterest in healthy food. As parents, we need to reflect on ourselves and take necessary measures for the same.