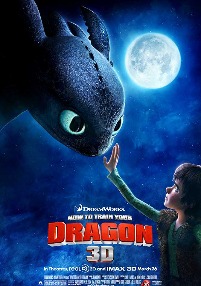 Moral: determination, integrity, kindness, perseverance, trust
Language: English
Duration: 1h 38m
What's in it for you and your child?
What your child can learn from Hiccup, the teenage boy is his selflessness. He is a peace-seeker and his curiosity to continually be learning about dragons and finding ways where humans and dragons could be peaceful. It beautifully shows that it is okay to be born different. It is compelling tale of dragons and humans, their changing relationship with dramatic depth. The movie cleverly comments on human fear, war and friendship prejudices, courage and love. There is not a single dull moment. The theme of violence versus intelligence is quite distinct.
Note: Cherish this phenomenal movie with your child because this is a perfect entertainment. Two brief kissing scenes can be excluded if you feel it awkward.
Bee Suggestions