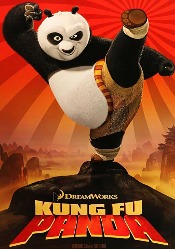 Moral: family value, respect
Language: English
Duration: 1h 35m
What's in it for you and your child?
This is a sweet martial arts action movie. There are many fast paced, battle scenes with kicks, punches, falls and more. It has interesting characters like Master Shifu, Oogway, Tigress, Viper, Mantis, Monkey, Goose, Crane etc. There is a dialogue, "what is the secret Ingredient"? and the answer is "Nothing". This is the crux of the story - To make something special you just have to believe, it is special. There is where a parent can pause and elaborate if needed that we all are unique and special in our own ways. This helps boost your child's confidence in self. The other major thing is you don't have to look like a hero to be one. You can explain that it's not the looks that matter but what is within you that matters.
Note: Watch this adventurous fun movie with your child and have some good family bonding time together.
Bee Suggestions