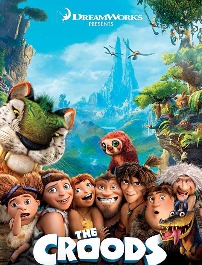 Moral: curiosity, family values, friendship
Language: English
Duration: 1h 38m
What's in it for you and your child?
This is actually a family entertainer and each one can take away something from this movie. The colours are vibrant and inviting. Your child and you would be pleased to watch the spectacularly imagined gorgeous vegetation and creatures. Some of the most difficult choices parents must make is when they want their children to be strong and brave, go out and shine in sports in school but at the same time they can't let go of the fear that their child is exposed to danger and may get hurt. The story revolves around a dad, Grug who believes: "Curiosity is bad and anything that is new is bad"! Grug has to learn that sometimes new is not bad. And Eep, his daughter has to learn the value of what she has. They together, teach us family bonding in all the conditions.
Note: We suggest you watch this family entertainer and adventurous movie with your parents and your children, we are sure each one of you would find it so relatable and enjoy each other's company.
Relevant Blogs