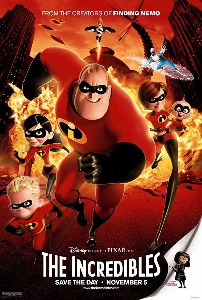 Moral: family values, self-love, courage
Language: English
Duration: 1h 56m
What's in it for you and your child?
The incredibles talks about a superhero family of five where all the five loving characters have some unique super powers. The dad is super powerful, the mom is flexible like elastic, the son has lightening speed and the daughter has the capacity to get invisible. The little baby is yet to show his super powers which you can see in the sequel of this movie. Watch it along with your whole family and there will be giggles and laughs all around the hall. "You have more power than you think", this is what the story will make you believe in. Together we can do what we can't do as individuals- you can elaborate this concept with your child after this movie. More power to family bonding.
Note: Watch this incredible movie with your family, we are sure you won't regret. It's all worth your time. Roars of laughter to you and your family.
Bee Suggestions