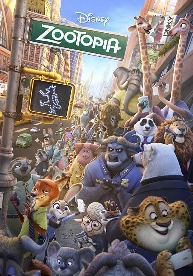 Moral: empathy, friendship, integrity, trust
Language: English
Duration: 1h 50m
What's in it for you and your child?
Zootopia won an Oscar for best animated feature film.Visuals are stellar and the writing is superb. There are all sorts of animals big and small in the movie like rhino, hippo, elephant, fox, buffalo, rabbit, lion, cheetah , yak etc. You can take time with your kids and find some interesting information about these species. They will be eager to know when they had seen this animated characters. This is the story about a female rabbit who is headstrong and a go getter. She always dreamed of becoming a police and finally gets the job but to stay in there she has to take up the challenge and she does it so well. She solves a mysterious kidnapping case with the help of her new friend fox. The best part for audience is to witness the sloths working at Department of Mammal Vehicle. That's just cute and hilarious. The movie gives the message, "You can be whatever you want to be-but you have to work hard to achieve it."
Note: Watch this amazing movie with your kid. This has jokes both for kids and adults plus the animation and story line is so gripping. You all would enjoy watching together having some good family time.
Bee Suggestions