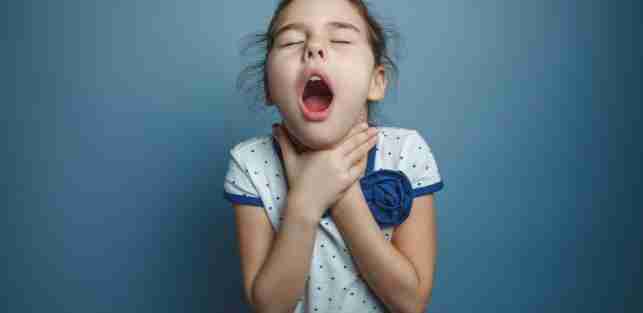 Choking is caused due to an object — usually food or a toy — getting stuck in the airway. Because of this, the air can't flow normally into or out of the lungs, so the child can't breathe properly.
Choking is caused due to an object — usually food or a toy — getting stuck in the airway. Because of this, the air can't flow normally into or out of the lungs, so the child can't breathe properly. Most of the time, the food or object only partially blocks the trachea, which gets removed by the coughing and breathing returns to normal quickly. It's best to do nothing. Watch the child carefully and make sure he or she recovers completely. The child will likely be fine after a good coughing spell. Don't reach into the mouth to grab the object or even pat the child on the back. Either of these steps could push the object farther down the airway and make the situation worse. Stay with the child and remain calm until the episode passes.
Sometimes, an object completely blocks the airway. If airflow into and out of the lungs is blocked and the brain is deprived of oxygen, choking can become a life-threatening emergency.
A child may need immediate medical help if (s)he:
Can't breathe
Is gasping or wheezing
Can't talk, cry, or make noise
Turns blue
Grabs at his or her throat or waves arms
Appears panicked
Becomes limp or unconscious
Until the help arrives:
In these cases, if you've been trained, immediately start abdominal thrusts, the standard rescue procedure for choking.
Start CPR (Cardiopulmonary Resuscitation) right away, if you've been trained in it. If you can see the object in mouth, only then remove the object.
If you have not been trained, and no one else is available who has been, wait until help arrives.
Prevention:
All kids are at risk for choking, but those younger than 3 are especially at risk. Young kids tend to put things in their mouths, have smaller airways that are easily blocked, and don't have a lot of experience chewing, so they might swallow things whole.
Avoid foods that pose choking risks.
At mealtime, be sure to serve a child's food in small bites.
Teach kids to sit down for all meals and snacks and not to talk or laugh with food in their mouths.
Toys and household items also can be choking hazards. Choose safe, age-appropriate toys. Always follow the manufacturer's age recommendations.
Take the time now to become prepared. CPR and first-aid courses are a must for parents, other caregivers, and babysitters.
Bee Suggestions
The nose is an essential part of our body. When there is a problem with your nose, your whole body can suffer.
Children have a more delicate skin than adults so burns and scalds affect them severely.
An ant bite usually goes unnoticed until some symptoms arise.
Treatment for animal bites depends on the type of animal that has bitten your child.
When your child suddenly has blood running down from their nose, it can be startling. While nosebleeds in children seem dramatic, they're not usually serious.
Proper measures post the shock without panicking will be helpful. Stay calm and help your child in the best way you can.
Oral trauma refers to injuries to the mouth and/or teeth.
Natural disasters affect one and all. It is advisable to be best prepared.
Kids tend to swallow many items including toys, buttons, coins, earrings, rings, paper clips, game pieces, needles, pins, tacks, toothpicks, screws, button batteries, magnets, and nails.
Most small cuts aren't a danger to children. But larger cuts often need immediate medical treatment.
Kids are curious individuals. No matter how much cautious you are, they are bound to fall and get an injury some or the other day. Maintain your cool and do the best that you can to comfort your child.
Most eye injuries are minor, like getting soap in the eye or a speck of dirt under the eyelid.
Head injuries are common in children and teens. They can hurt the scalp, skull, brain, or blood vessels.
Apart from insects or flies, babies and young children are known to put small objects in their ears like candy and beans.