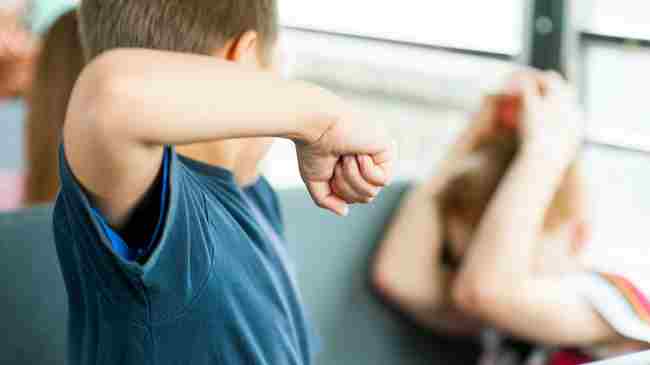 Even your child is aware that hitting is not the right thing. You just need to pin point the problem and solve it.
This kind of behaviour suggests the possibility of some imitation from the environments either inside or outside of the home. If someone in the family is acting in the same way, the child learns from them and imitates the same behaviour. In this particular situation, family therapy is required. It is possible that the child has learnt such behaviour outside the home from his/her peers or other persons. In this case, the child should be taught and counselled about proper behaviour and discipline. If you cannot do the same at home, you can take the help of a psychologist.
If you feel that this behaviour has no explainable reasons, it might be due to some kind of a psychiatric disorder. It can be depression, bipolar disorder, or disruptive mood dysregulation disorder. In this case, where you cannot identify the reasons yourself, it is better to consult a clinical psychologist or a psychiatrist at the earliest.
If you are able to find the reasons behind this behaviour, this is what you can do:
Prevent it before it's too late, if you can predict your child's behaviour and you are around try to be close to your child. Remember hitting comes out of fear, if you are around the child feels empowered to handle the situation and may not lash out. Also, since you are there to monitor keep them away from other children if the situation triggers. Hug the little one and calm him/her.
If the child who is hit is without his/her parents around hug him/her before talking to your child. This will also give you some time to calm down, after handling the child who is hit talk to your child to apologise (you too can join him/her to apologise).
Instead of playing blame game and saying "you are bad as you have hurt your friend", rather say "your friend is hurt, hitting hurts and pains". Blaming the child may create a negative impact on child's mind and the problem may not get resolved.
Even lecturing will not work; avoid the urge to give a lecture to the child in such situations. The child knows that hitting is not okay; it's just that he/she couldn't control the feelings, try to make the child feel safe. You can explain the child later during the sleep time on bed. This will have a lasting impact and may result into a positive behaviour.
Stay compassionate so that the child can cry or vent out the feelings. The child feels overwhelmed and venting out helps a lot.
Relevant Blogs
Children lie when they feel they actions will not be accepted by their parents. Assure your child that you will be there to support them when things go downhill.
A regular habit or not, thumb sucking can cause problems in a child's speech.
Children model their parents the most. Develop the listening skill yourself and then help the child to achieve the same.
A child will always stay true to his/her nature. Nonetheless, there is always room for changes and improvements.
Most kids are possessive by nature. Observe carefully where there possession ends.
When a toddler asks you a question, either it comes out of curiosity or it could be just attention seeking. Whatever is the case, it is always best to feed your child's curiosity and give them undivided attention.
Discipline teaches your child how to behave and how not to behave in social and routine situations. It also lays the foundation for the kind of adult the child is going to be.
Every child needs full attention of a parent. So, pause and reflect on your parenting to make sure none of your children feel left out.
Children do not understand the concept of "stealing" so instead of dealing with this situation using your anger, it is better to sit with your child and make him/her understand why they should not be doing this.
Back answering is not just a misbehaviour of your child. There might be underlying reasons for that.
Knowing the interest of your child will help you guide your child better.
Before assuming that your child is a disobedient child, assess what according to you is disobedience.
It becomes a little awkward to explain such things to your child.
A child is entitled to his/her choices of choosing friends and playmates.