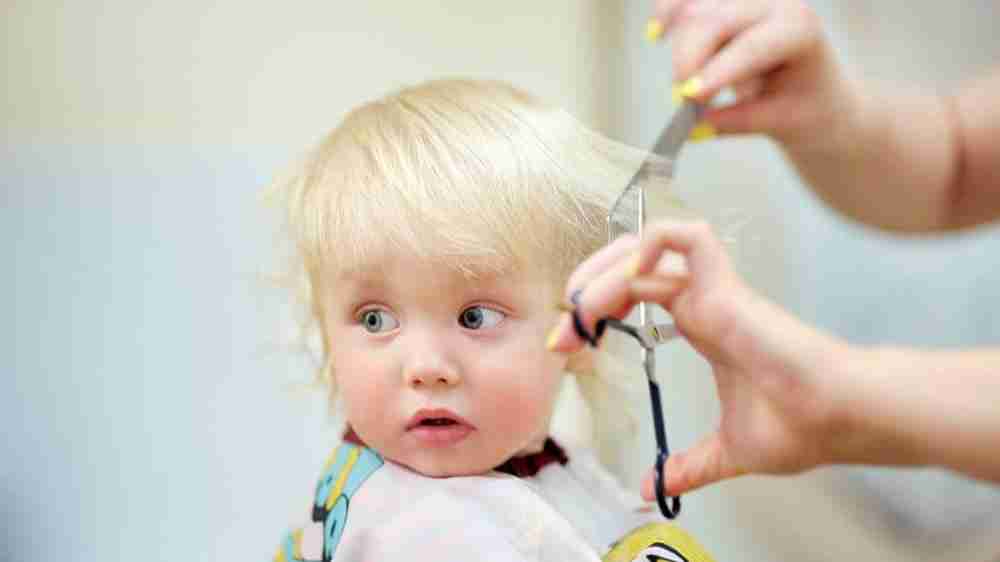 Convincing your child for the first haircut can be difficult. Nevertheless, you can make this easier.
There is no specific age limit as to when a child should get his/her first haircut. However, in some cultures, such as in Hinduism, it is believed that a child should get the tonsure ("mundan" as it is called in the Hindu culture) done by the end of the first year. If you don't hold such beliefs, it does not matter if you get your child's first hair cut done at 2 months or 2 years.
A few signs which will help you know when the child needs the first haircut:
When hair starts to get in your baby's eyes or is bothersome on his or her neck
When "fly-a-ways" on the sides start to look like wings
When the hair is making your child extremely irritated
Tips to keep in mind BEFORE that first hair cut:
Before you take your child for the first haircut, you should take him/her to your own hair appointments. This will make their fear go away and they will understand that getting a hair cut does not physically hurt.
Take an extra towel/shirt to the salon if in case your child does not want to wear the hair-cut cape.
Choose the time of the haircut wisely; it should not be your child's nap time or snack time or even playtime.
Going to a kid's salon is the best approach but if you cannot access a kid's salon, ask around and book an appointment with the stylist who is known to work with kids' haircuts.
Reach the salon 15 minutes before your appointment time, so your child gets accustomed to the environment. Do not reach very early as the wait will make your child cranky.
Kids salons usually have playthings and chocolates, lollipops, cars, books etc. to keep children distracted until their turn. If you are not going to a kid's salon, take your child's favourite toy or a book.
Tips to have a smooth experience DURING the first haircut:
Do not use the word "cut", use a less scary word like "style", "trim". Tell them, "We are going to get your hair styled".
If they refuse to sit in the styling chair, make them sit on your lap. This way they will be less scared as you would be with them.
If they have an elder sibling, schedule their haircut on the same way. Your child will get confidence by watching their sibling getting the haircut while they get theirs. If your child has no sibling, you can schedule any of your family member's haircut.
Do not lose your calm. If you panic, your child will take up the vibe and get even more uncomfortable. So remember to be relaxed at all times.
Relevant Blogs
Dress your baby in a way that (s)he remains cheery all the time.
It can be difficult to dress up your little baby as they are constantly moving about. Keep you calm while doing so.
Get your child's ear pierced only if they like it.
Clothes decide the mood of your child. So select the ones your child is most comfortable in.
Footwear plays a major role in balance and grip of a child.