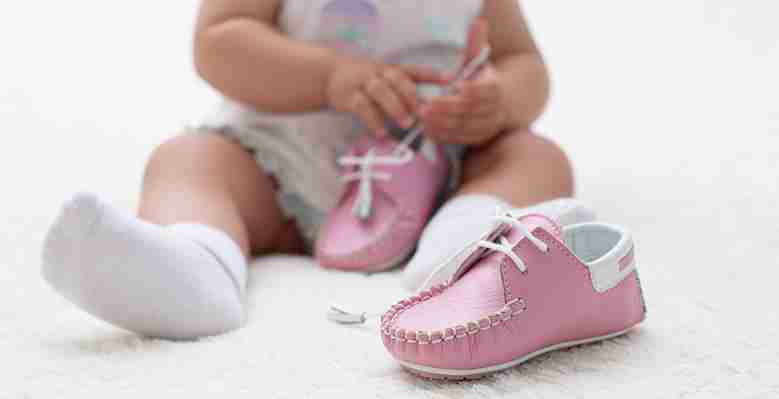 Footwear plays a major role in balance and grip of a child.
Children are active human beings. They want to walk, run, and climb anywhere and everywhere. Choosing the footwear which provides them with proper grip and balance is very important.
Socks: Even when babies have not started walking, you can buy socks for them for protection from cold. Select socks made up of natural breathable fibres like wool and cotton. Never invest in 100% nylon material.
Soft and comfortable: The first shoes should be soft and comfortable; the baby should be able to feel his feet through the shoes.
Let it be lightweight and proper fit; not too tight but not that loose that it comes out while the child is walking.
Slippers of your child should properly fit at the toes so that they have a good grip.
Velcro fasteners are better than anything else because they are easy to wear and easy to remove.
Ensure the soles or bottoms of the shoes are not slippery. It should stay firm and hold the ground properly so that the child can maintain his/her balance.
Seams and edges should be soft.
Space near the toes should be wide enough so that the child can wiggle his/her toes easily.
Check the shoes after every 6 to 8 weeks for the right fit.
Make sure the shoes have proper padding on the heel backs, around the ankles and in the bottom inside.
Keep on checking babies' toes regularly.
Allow your child to walk barefoot wherever it is possible. They find perfect balance and grip by walking bare feet.
Bee Suggestions
Clothes decide the mood of your child. So select the ones your child is most comfortable in.
Dress your baby in a way that (s)he remains cheery all the time.
Get your child's ear pierced only if they like it.
Convincing your child for the first haircut can be difficult. Nevertheless, you can make this easier.
It can be difficult to dress up your little baby as they are constantly moving about. Keep you calm while doing so.