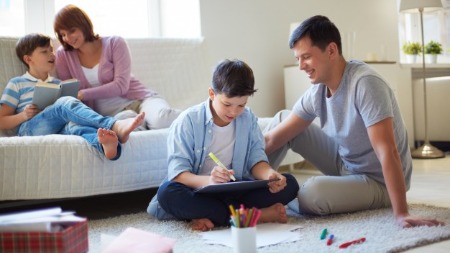 The decision of homeschooling a child is a major one and needs to be taken in the light of researching all the pros and cons, legalities and challenges that come with the step.
You can homeschool your child via different approaches. To start with, there can be different approaches one may take. The way/approach majorly depends on the requirement and suitability of the parent and hence the planning may be done.
Approach #1:
Taking the child out of a regular school and start educating them at home without any affiliation with a School or Board. This way the children may learn in an independent manner and won't have to follow a particular curriculum. The homeschooler family gets to explore all the resources, methods and content nationally and internationally.
Later, with the progress, the family may choose a Board which is suitable for the child(ren) to appear for their 10th examination and accordingly, they may be introduced to the curriculum.
This kind of set-up fit suits the children who are in elementary or middle school years. For children who are close to the 10th grade and have to sit for their board exam as well, one might want to look at other approaches since there is less time in hand.
Approach #2:
Some schools allow parents to enrol their children as a private student. In this approach, parents can choose to teach their children at home but have to follow the curriculum and examination process of the school.
In this approach, Parents have to personally approach the schools, that have affiliation with the Board they prefer (IB, SSC, IGCSE, NIOS etc.). In this case the homeschooler family will have to follow the standardised curriculum adopted by the school (they have enrolled into).
Apart from the approaches, one may start with the following pointers:
Understand the legalities involved
Locate homeschoolers nearby, in your city
Explore homeschooling methods/approaches
Design a plan suitable for your child
Attend book fairs, conferences and events
Spot your support network
Relevant Blogs
The school years (most importantly the preschool years) are the most important years in a child's life. These years lay the foundation of an individual's personality.
Every child learns on its own pace. You can slowly introduce your child to new concepts but never be impatient to teach them everything at once.
Conventional or regular schooling is when children go to an authorised school with other children to study as per the school norms and curriculum. While homeschooling is when the child is educated in the comfort of his/ her house.
Colours and shapes are very fun concepts to be explored with children.