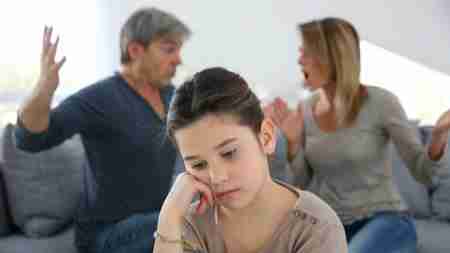 Arguments between parents have an impact on children for a long time so it's advisable to keep the arguments limited to your room.
Fighting in front of your kids has a very negative impact on their growing years. So whenever a situation arises where you think that things might get heated, it is better to walk away from that place or tell your spouse "we will talk about this later". You can talk about your issues separately and vent everything out because keeping things to yourself will affect your mental health.
The first step is just walk out of that situation.
The second step is to wait till you are not around your children or you both are alone.
The third step is to reflect whether it is worth fighting on that particular point or not. If you can, just let it go with the passage of time.
If your argument is related to your child's upbringing or academics or just a difference of opinion between you and your spouse regarding your child, talk this through in a calmer but firmer tone. Not everything needs to be shouted and sorted. This will also help children understand that things can be sorted out without shouting on each other.
If you and your spouse cannot sort things out without shouting on each other, it is better to pen down your opinions. Then you can exchange your written points with your spouse. This way there will be more understanding and less shouting.
After you have listened to or read your spouse's side of opinions, you can discuss the solutions. Again, if you think that things will not be smooth during verbal discussion, then pen down your views and then discuss with each other.
Relevant Blogs
When both the parents are working, it becomes a tad bit difficult to manage work, household chores, and spending time with the child.
It is impossible for a parent to not get angry with children during their parenting journey. Maintain your cool and things will get back to normal.
Mothers tend to get cranky during the day because it is difficult for them to get sound sleep with the little one around.
A parent's mental health is of the top most priority when it comes to parenting. A healthy mental space leads to a happy and healthy bond between a parent and a child.
Raising a single child is absolutely alright; do not let the external pressure affect you.
Many families observe that children don't want to spend time with their grandparents. This can be improved with a few steps.
There is a difference between talented child and a gifted child.
Co-parenting after separation can be difficult to manage but it needs to be worked out between the husband and the wife for the sake of the child.
The problem of stammering bothers parents a lot. The problem of stammering can be improved upon by following a few tips.
The generation gap not only exists between parents and children but also between grandparents and grandchildren too.
Aggressive partners make it difficult for children to live openly. Children usually stay away from aggressive parent and are affected negatively.
Early years of childhood have a great impact in grooming stable and successful adults.
In times of stress, it is important to let your child know that you are there for them.
Separation anxiety can be difficult to deal with but things can be made easy by following a few measures.
Be very observant of how your child behaves, that should help you understand your child better.