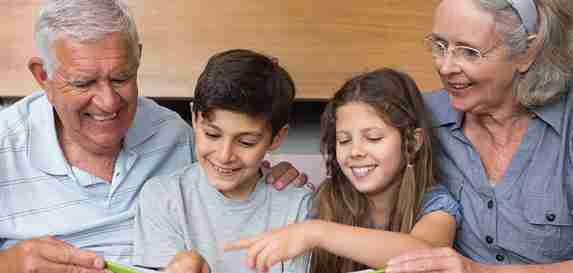 Many families observe that children don't want to spend time with their grandparents. This can be improved with a few steps.
In this techno savvy and fast-paced world, it becomes difficult to get our children out of screen time and make sure that they spend some quality time with their grandparents. This is required to build warm and loving bonds in the family. Ultimately it is our relationships and family bonding that matters in life.
Tips to increase closeness between your child and their grandparents:
Let your child talk to his grandparents. In case they are not staying around, make sure your child talks to them over regular calls. The more they talk, the more they bond. This way they will get to know each other well.
If it is possible, take them to their grandparents' place often and allow them some quality time.
You can plan a dinner date for your child and their grandparents. They can visit libraries or parks or some art exhibition together.
You can ask your parents to narrate their life stories to your children.
Your child and his/her grandparents can cook some dishes together.
A perfect picture is also a good option. Ask them to go to a picture studio and get clicked. Get this picture framed and hang it in their room.
They can read books to each other. Play chess and some vintage games like snakes and ladders, ludo, carrom etc.
Eventually, they will develop a beautiful bond and will be sharing stories soon.
Relevant Blogs
Children have parent preferences; this is common and temporary so don't you worry.
Children, by birth, do not know gender bias. Hence it is important to not unknowingly introduce gender bias to children.
Conflicts between parents and grandparents are bound to happen but this should not affect your baby in any way.
Be very observant of how your child behaves, that should help you understand your child better.
Aggressive partners make it difficult for children to live openly. Children usually stay away from aggressive parent and are affected negatively.
The problem of stammering bothers parents a lot. The problem of stammering can be improved upon by following a few tips.
It is necessary to pay as much attention to mental health as physical health. Treating mental health problems at the right time is important so that a child has a happy childhood.
Mouthing or putting everything in mouth is very common. It signals growth so do not worry much.
Addiction/obsession is not something which can be immediately worked upon.
Things what we learn in childhood stay with us forever. So investing time in raising a happy child is worth it.
When both the parents are working, it becomes a tad bit difficult to manage work, household chores, and spending time with the child.
A parent's mental health is of the top most priority when it comes to parenting. A healthy mental space leads to a happy and healthy bond between a parent and a child.
Divorce can be quite difficult for a child. It is important that parents handle this situation very carefully.
In today's era, almost all parents face the problem of "Digital Addiction" in children. One question to ponder upon though is, "Who introduced them to screens and why?" While you figure out the answer to this question, let's have a look at what digital addiction is.
Separation anxiety can be difficult to deal with but things can be made easy by following a few measures.