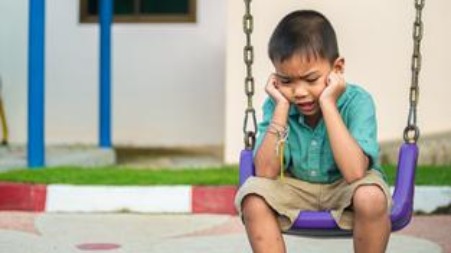 It is necessary to pay as much attention to mental health as physical health. Treating mental health problems at the right time is important so that a child has a happy childhood.
Children experience mental health issues when they feel pressurised, when they feel that they are not being heard, or when they are going through something.
Signs that your child might have mental health issues:
Mood changes. Look for feelings of sadness or withdrawal that lasts at least two weeks or severe mood swings causing problems in relationships at home or school.
Intense feelings. Be aware of feelings of overwhelming fear for no reason or when the child is not able to express the reason of his fear.
Behaviour changes. These include drastic changes in behaviour or personality, as well as dangerous or out-of-control behaviour. Fighting frequently, using weapons and expressing a desire to badly hurt others are warning signs.
Difficulty concentrating. Look for signs of trouble focusing or sitting still.
Unexplained weight loss. A sudden loss of appetite, might indicate an eating disorder.
Physical symptoms. Frequent headaches and stomach aches could also be a sign of underlying mental health issues.
Physical harm. Sometimes a mental health condition leads to self-injury, also called self-harm. This is the act of deliberately harming your own body, such as cutting or burning yourself. Children with a mental health condition also might develop suicidal thoughts or attempt suicide.
Treatment of mental illness in children: As soon as you see one or more of the mentioned signs, or a combination of few signs, consult a psychologist.
The treatment includes:
Psychotherapy. Psychotherapy, also known as talk therapy or behaviour therapy, is a way to address mental health concerns by talking with a psychologist or other mental healthcare provider. During psychotherapy, a child might learn about his or her condition, moods, feelings, thoughts and behaviours. A few counselling sessions can help your child cope with the situation.
Medication. Your child's doctor might recommend that your child take certain medications — such as stimulants, antidepressants, anti-anxiety medications, anti-psychotics or mood stabilisers — to treat his or her mental health condition.
Some children benefit from a combination of approaches.
Helping your mentally ill child:
Your child needs your love and support. Talk to the doctor and adapt new ways to handle his/her illness.
Seek ways to relax and have fun with your child. Praise his or her strengths and abilities.
Consider seeking family counselling or the help of support groups, too. It's important for you and your loved ones to understand your child's illness and his or her feelings, as well as what all of you can do to help your child.
To help your child succeed in school, inform your child's teachers and the school counsellor that your child has a mental health condition.
If you're concerned about your child's mental health, seek advice. Don't avoid getting help for your child out of shame or fear.
Bee Suggestions
Early years of childhood have a great impact in grooming stable and successful adults.
Getting caught in the act is awkward for a child as well as the parents.
Co-parenting after separation can be difficult to manage but it needs to be worked out between the husband and the wife for the sake of the child.
It is difficult to talk about money matters with children but it must be done.
Things what we learn in childhood stay with us forever. So investing time in raising a happy child is worth it.
All elder siblings are excited about having a younger brother or sister. But keep in mind to prepare them enough so that there's no insecurity in them when a newborn arrives in the family.
Conflicts between parents and grandparents are bound to happen but this should not affect your baby in any way.
A parent's mental health is of the top most priority when it comes to parenting. A healthy mental space leads to a happy and healthy bond between a parent and a child.
Such times can be very difficult with a little one around. It is important to take their feelings into consideration.
Raising a single child is absolutely alright; do not let the external pressure affect you.
Mothers tend to get cranky during the day because it is difficult for them to get sound sleep with the little one around.
A child's thought process is majorly influenced by the people around him/her.
The nose is an essential part of our body. When there is a problem with your nose, your whole body can suffer.
Talking about private parts and sex has always been uncomfortable for parents more than children. Relax, it is going to be easy.