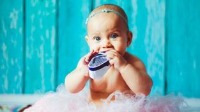 Mouthing or putting everything in mouth is very common. It signals growth so do not worry much.
Babies putting things in their mouths, otherwise known as mouthing, is not only normal, but also signals a growing interest in the world around them. In the first year, children explore their surroundings through their senses - seeing, touching, hearing, smelling, and tasting. The more they explore, the more they learn.
But be careful about the following things:
Keep the child away from choking hazardous things/toys. Provide them with bigger toys with smooth edges so that children do not swallow the toys.
Try and replace the items that are not safe in their hands either with some eatables or any other better option. Distraction is the key.
Constantly taking away things from their hands will only result into rebellious stubborn behaviour, rather gently distract them by giving suitable things and toys.
Relevant Blogs
Children have parent preferences; this is common and temporary so don't you worry.
Many families observe that children don't want to spend time with their grandparents. This can be improved with a few steps.
It is difficult to talk about money matters with children but it must be done.
Separation anxiety can be difficult to deal with but things can be made easy by following a few measures.
Talking about private parts and sex has always been uncomfortable for parents more than children. Relax, it is going to be easy.
A parent's mental health is of the top most priority when it comes to parenting. A healthy mental space leads to a happy and healthy bond between a parent and a child.
Choosing the right caretaker for your child is difficult but not impossible.
Getting caught in the act is awkward for a child as well as the parents.
Mothers tend to get cranky during the day because it is difficult for them to get sound sleep with the little one around.
Divorce can be quite difficult for a child. It is important that parents handle this situation very carefully.
The generation gap not only exists between parents and children but also between grandparents and grandchildren too.
Aggressive partners make it difficult for children to live openly. Children usually stay away from aggressive parent and are affected negatively.
Early years of childhood have a great impact in grooming stable and successful adults.
Co-parenting after separation can be difficult to manage but it needs to be worked out between the husband and the wife for the sake of the child.