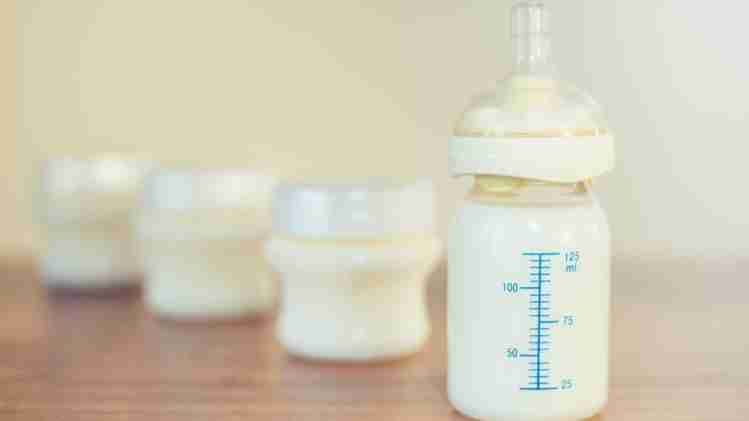 Selection of milk bottle can be based on many parameters like nipple shape, nipple flow, bottle material and bottle shape.
Keep the following points in mind while buying a milk bottle for your child:
Bottle material: The glass bottles are heavy, BPA (a chemical used in plastics) free, can last longer and can be easily cleaned. But they need to be handled with care while. They are more expensive than plastic ones.
The silicone bottles are light and unbreakable, BPA free. Often they are soft but more expensive than the plastic and glass ones.
The plastic bottles are light, unbreakable and inexpensive. Generally, parents don't prefer using plastic though they are very convenient to use.
The stainless steel bottles are light, unbreakable, BPA free, last longer, not very expensive too.
Parents can use any of the above material depending upon their preference and convenience.
Bottle shape: Most bottles are slightly curved or angled for easy grip. Height and width should be chosen based on baby's convenience to hold.
Disposable bottles are also available in the market if you want to use during travelling, when washing and cleaning are not possible.
Venting system: There are bottles available in the market which claim to be anti-colic. It has a straw-like component so that the baby doesn't ingest gas bubbles.
Number of bottles: Depending upon how you use it, minimum 2 to 4, to a maximum of 8 to 10 bottles can be required.
Nipples: There are two varieties- silicone and latex available in the nipple material. Flat-topped and wide nipples are better.
Nipple size and flow: For preemies and newborn, the smallest size is preferable while for a grown-up baby, there are nipple sizes and flow which are larger and faster respectively.
Relevant Blogs
A stroller is a wheeled vehicle to transport children generally in a sitting up or semi-reclined position by a person pushing on a handle attached to the stroller
Baby boxes are also known as sleep boxes. These are simple cardboard boxes which can be used in place of cribs for babies to sleep in.
A playpen is a high sided, enclosed play area specifically designed for babies to play so they won't wander off.
A rocker is a baby chair with a slanted base so that you can rock your baby gently while they lie in the chair.
A pacifier is a rubber, plastic, or silicone nipple which is given to an infant to suck upon. It comes with a mouth shield to avoid the danger of swallowing it and choking up on it.
Babies love to sleep in cradle because the swaying of cradle is soothing to them.
A crib or a cot is a small bed especially designed for infants and very young children.
A cradle is a baby bed with curved bases so it is easy to rock them from side to side.
Diapers affect the mood of your child if they are not comfortable in them.
Pacifiers and milk bottles if not weaned off at the right age, can last up to many years.
A baby carrier is a soft padded carrier that you wear on your front to carry your baby comfortably.
Baby wipes are wet cleaning clothes used for hygiene purposes. Buy wipes which are gentle on your baby's skin.