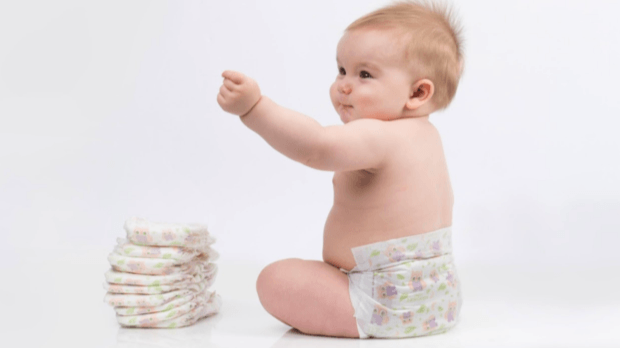 Diapers affect the mood of your child if they are not comfortable in them.
The common parameters to keep in mind while selecting a diaper is price, practicality, size, ease of usage, eco-friendly, scented/unscented, baby's response, and a cloth or disposable.
Keeping in mind a few points can clear your confusion which brands or what type of diaper should you prefer for your baby:
Do not buy first diapers in bulk. First of all try handful of brands and experience what fits your child best and is it comfortable or not. Is it budget-friendly? Once you are clear, bulk buying is cost-effective. Also, keep in mind the size and weight of your baby and his/her growth while bulk buying.
Diaper should have maximum absorbency. This depends on a chemical ingredient called super absorbent polymer, which is used in almost all kinds of diapers. It is considered to be safe and non-toxic.
Ensure the diaper fits your baby perfectly because different brands although mentioning the same size may have different fittings. Keep in mind the baby's size and weight before selecting any diaper. The material should be soft and should conform to the body nicely. Avoid diapers that are stiffer and leave gaps.
Edges and seams should feel seamless to avoid skin rashes and irritation as baby's skin is very sensitive.
While you research, you also come across green diapers. These diapers claim to have undergone chlorine-free processing, use renewable resources, minimal packaging and use biodegradable materials. If the above measures and points comply with these ones, there is no problem in using them.
Another good option is a cloth diaper. They need to be washed and dried. They don't come in wide sizes but have adjustable pins and straps.
You can also select from scented and unscented products. Scented diapers are considered safe unless your baby is hypersensitive to fragrance. If you want to avoid a few more chemicals, opt for unscented ones.
Bee Suggestions
A baby carrier is a soft padded carrier that you wear on your front to carry your baby comfortably.
Baby wipes are wet cleaning clothes used for hygiene purposes. Buy wipes which are gentle on your baby's skin.
A cradle is a baby bed with curved bases so it is easy to rock them from side to side.
Pacifiers and milk bottles if not weaned off at the right age, can last up to many years.
A rocker is a baby chair with a slanted base so that you can rock your baby gently while they lie in the chair.
A pacifier is a rubber, plastic, or silicone nipple which is given to an infant to suck upon. It comes with a mouth shield to avoid the danger of swallowing it and choking up on it.
A stroller is a wheeled vehicle to transport children generally in a sitting up or semi-reclined position by a person pushing on a handle attached to the stroller
Baby boxes are also known as sleep boxes. These are simple cardboard boxes which can be used in place of cribs for babies to sleep in.
A crib or a cot is a small bed especially designed for infants and very young children.
A playpen is a high sided, enclosed play area specifically designed for babies to play so they won't wander off.
Selection of milk bottle can be based on many parameters like nipple shape, nipple flow, bottle material and bottle shape.
Babies love to sleep in cradle because the swaying of cradle is soothing to them.