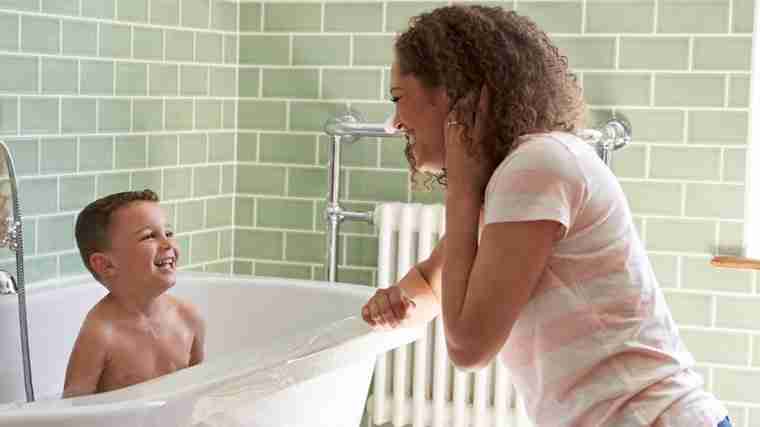 Talking about private parts and sex has always been uncomfortable for parents more than children. Relax, it is going to be easy.
When our kids are asking such questions, it's time to consider the importance of such conversations. Do not panic or get aggressive when your child asks any question which is related to his/her body parts.
It is totally normal for a child to ask any such questions. This comes out of their curiosity or from something they have heard or seen or read.
Before providing any information, ensure it to be age-appropriate and consider your child's individual maturity and sensitivity.
Consider the following points while talking to them:
Talk about it: Grab any opportunity that comes up naturally or you utilise bathing time or dressing time. Give them little pieces of information on body parts. Instead of directly pointing to their private parts, show them the importance of each body part and within the conversation, you can include the concept of private parts. That would look natural and normal to them. It sends them a message that talking about private parts is not something that is shameful. Introduce them to the real names of private parts like penis, vagina, vulva, and buttocks so they can talk to you or the doctor when they need to.
Safety and consent: Make them understand the concept of private parts like mouth, breast (chest), penis, vagina, vulva, buttocks. Let them know it is for their safety and no one should touch their private parts without their consent. You can explain to them that mom and dad can help them wash their private parts and at times doctors and nurses can touch them with a parent by their side for clinical purposes. Other than that no one is allowed to see and touch their private parts.
Stay calm and deal wisely: Whenever your child has such a question about private parts or nudity, explain them calmly and wisely. Explain to them that they can talk about it but in personal space with someone they trust.
Emphasise that these parts are called private parts because they belong to them. Tell them that privacy needs to be maintained. One must set boundaries and likewise respect boundaries too. Explain to them that even they should not be touching or seeing any one's private parts.
Stay open: As a parent, stay open for your children so they can come to you at any time and ask whatever they want to. Make them feel comfortable, safe and secure.
Good touch, bad touch: Explain the difference between good touch and bad touch. Hugging, holding hands, kissing on the forehead, patting shoulders comes as a good touch. While if anyone tries to kiss their mouth, touches their private parts, gets closer to them inappropriately and forcibly tries to embrace them, it comes under the bad touch.
Control their media exposure: Be vigilant about the media they are consuming. Video games, TV shows and movies- these all are going to have some impact on your child.
Keep talking and inquiring on a regular basis about what is happening in your child's life. Do not laugh or giggle. Do not react with anger. Do not make them feel ashamed. Listen to your child's responses and reactions.
Relevant Blogs
Arguments between parents have an impact on children for a long time so it's advisable to keep the arguments limited to your room.
Conflicts between parents and grandparents are bound to happen but this should not affect your baby in any way.
Having a baby would have changed your day-to-day lives. But it may affect your relationship too. According to research, about two-thirds of couples become unhappy with their relationship within three years of having a child.
It is necessary to pay as much attention to mental health as physical health. Treating mental health problems at the right time is important so that a child has a happy childhood.
Divorce can be quite difficult for a child. It is important that parents handle this situation very carefully.
Raising a single child is absolutely alright; do not let the external pressure affect you.
Aggressive partners make it difficult for children to live openly. Children usually stay away from aggressive parent and are affected negatively.
Neglect is most of the times unintentional. So keep a check on yourself and also on your child to make sure your child is not getting sidelined because of your other responsibilities.
Mouthing or putting everything in mouth is very common. It signals growth so do not worry much.
When both the parents are working, it becomes a tad bit difficult to manage work, household chores, and spending time with the child.
All elder siblings are excited about having a younger brother or sister. But keep in mind to prepare them enough so that there's no insecurity in them when a newborn arrives in the family.
Co-parenting after separation can be difficult to manage but it needs to be worked out between the husband and the wife for the sake of the child.
In times of stress, it is important to let your child know that you are there for them.
The generation gap not only exists between parents and children but also between grandparents and grandchildren too.
Mothers tend to get cranky during the day because it is difficult for them to get sound sleep with the little one around.