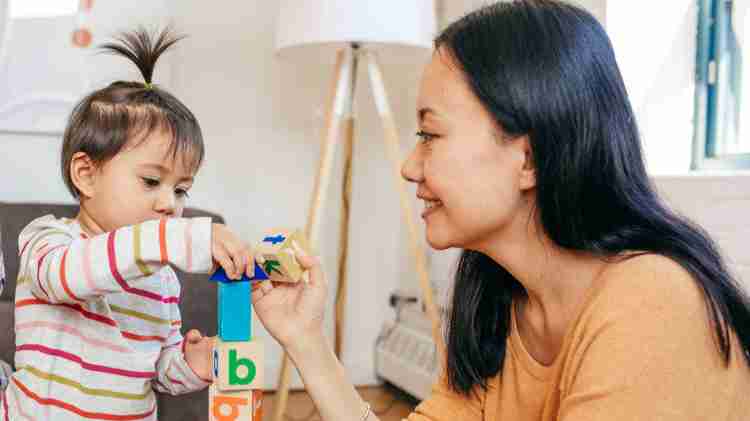 Every child learns on its own pace. You can slowly introduce your child to new concepts but never be impatient to teach them everything at once.
Around the age of 2, most kids start showing interest in learning alphabets. You can use the following learning methods for your child:
Singing the alphabet song: You can sing the alphabet songs for them and gradually they will learn to sing with you. You can also play action song on alphabets or just play audio whenever they are playing around. Children love to sing and dance along and that's how they learn things quickly.
Reading all alphabet books that you can find: The more you repeat, the more they repeat with you and the better is the learning. Provide them with different alphabet books so they don't get bored with reading the same one. Make sure that the books show different things for one alphabet. Example: Not all books should contain "A for Apple"; "A for aeroplane", "A for almond", and so on should be included in the books. This will help your child in the long run.
Tracing the letters: Books for tracing the letters are readily available in the market. A child uses his/her fingers to trace the letters. The letter cards tell the child where to start and in which direction to trace. You can make such cards at home too. To make it interesting, help your child dip their finger in watercolour and then trace the letters.
Make alphabet shapes with your child using sand on a flat surface.
Use clay to make alphabet shapes with your child. This will improve their fine motor skills and sense of touch along with learning alphabets.
ABC cookies, ABC pancakes are also available in the market.
Important Note: If the child knows the alphabet names, it becomes easy for them to learn the sounds of letters. Always start with teaching upper case letters because they are easier than the lower case ones.
Bee Suggestions
Conventional or regular schooling is when children go to an authorised school with other children to study as per the school norms and curriculum. While homeschooling is when the child is educated in the comfort of his/ her house.
The school years (most importantly the preschool years) are the most important years in a child's life. These years lay the foundation of an individual's personality.
The decision of homeschooling a child is a major one and needs to be taken in the light of researching all the pros and cons, legalities and challenges that come with the step.
Colours and shapes are very fun concepts to be explored with children.